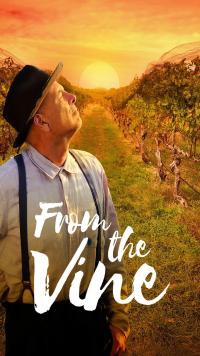 Runtime:

94mins

Genre:

Drama

Starring:

Joe Pantoliano, Paula Brancati, Wendy Crewson
A middle aged businessman arrives in Rome on a flight from Canada. At customs, the border agent asks if the man is visiting Italy for business or for pleasure. But the man cannot answer. It's neither business nor pleasure. "Just pick one, Signore," the border agent intones…and so begins From The Vine, the story of Mark Gentile, an attorney and automotive company executive who travels to his childhood home after a major humiliation in business. Mark returns to the tiny village of Acerenza in Southern Italy, where he visits the vineyard where he grew up and finds it in a state of disrepair. Mark gets an idea to bring the overgrown property back to life and start producing wine again. Mark convinces various denizens of Acerenza, each with their own comedic personality, to aid him in this seemingly impractical effort, promising everyone a share in the business if it is successful. Concerned about his sudden and lengthy trip, Mark is eventually joined by his wife Marina, and his twenty-something daughter, Laura, who's purpose is lost. Now reunited with his family, Mark brings them in on his plan to rejuvenate the winery and starts to reconnect with a wife he has alienated, and a daughter who doubts his motives. As the joys of Italy starts to work its particular magic on Mark and he begins to let go of his past humiliations, he starts to mend his relationship with Marina, and build a new one with Laura. But when Mark gets a serious offer to run another company, he abruptly packs up and heads home, leaving his daughter to run the winery… something she never planned to do as a career. Laura is furious with Mark, but then learns that his choice will ultimately benefit the vineyard and bring true prosperity to Acerenza. From The Vine is a story about Italy, humour, life, love, wine, and how one man finds himself again in a world that had counted him out. From The Vine is based on the award-winning 2010 novel Finding Marco, by renowned author Ken Cancellara. The book was published in Canada and Italy, and it received several awards. 

Kids:

$8.50

(under 14yrs)



You must be a financial member of the Hervey Bay Boat Club to purhcase member tickets. Click here for membership details. All cinema patrons must adhere to the Hervey Bay Boat Club's entry requirements. Click here for details.